Malacca is one of my most favourite place in Malaysia, besides Langkawi and Johor Bharu.
My vivid memory of Malacca must be the one where my late sister brought my family for a short vacation in 2007, a year before she passed away. It was our last trip with her.
Malacca is a very historical place in Malaysia. It is considered as the most historical state in Malaysia. It is significant as a trading port in the early days of 'Tanah Melayu' or Malay Land. Malacca was also awarded as one of Unesco's World Heritage Site in 2008.
More of Malacca's history can be read here.
Below are the things that you may do in Malacca:
1.Visit all the historical places in Malacca, if not all at least some of it. Of course, one cannot finish visiting all the historical places in one go as there any many interesting historical places to visit in Malacca. Depending on the numbers of days you are staying, you can choose and decide which historical places that you do want to visit.
Here are my recommendations and reasons :
This historical fort was built by the Portugese named Afonso de Albuquerque

who came to Malacca from Portugal in 1511 with his fleet of army who then attacked and defeated the Malacca Sultanate's armies. He built this fort near a natural hill, as a place of protection and hiding. It is the only Portugese fort that still exist in Malacca till this day.
B.
STADHUYS (THE DUTCH SQUARE)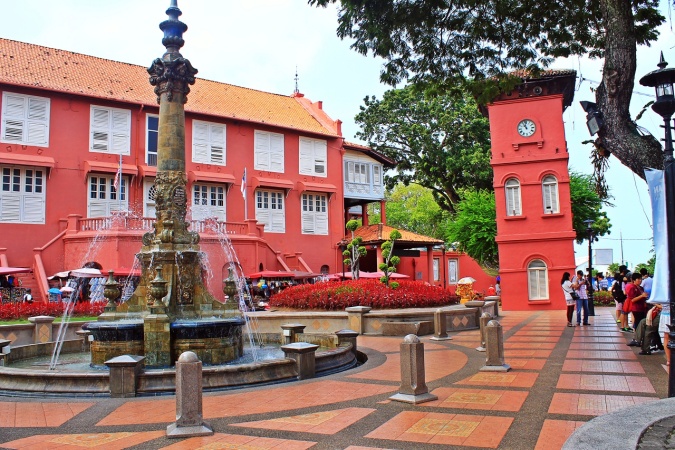 Credit : Google
Now who wouldn't want to visit these beautiful bright red buildings in Malacca. Not only, it would make a nice background for your pictures due to it's vibrant colours, but these buildings were are part of the heritage left by the Dutch in Malacca when they defeated the Portugese over Malacca. These building have now been converted to a museum and was formerly used as an administrative building.
C
.
MALACCA SULTANATE MUSEUM
Credit : Google
This museum is actually really not the real palace of the Sultanate of Malacca but is a replica of what it looks like. Inside the museum, replica's of how the important leaders of the Sultanate are seated in a royal seating before the Sultan of Malacca/King of Malacca are placed. It in this manner, is how they discussed the affairs of the state.
The Sultan of Malacca had numerous trusted leaders. These leaders will take instructions for the ruling Sultan unconditionally. Among the most trusted and famous leaders of the Sultanate are known as Hang Tuah, Hang Lekir, Hang Jebat, Hang Lekiu and Hang Kasturi. They were known as the famous 5 Malacca warriors for their unconditional dedication and absolute faith to the Sultan's orders and safety.
There are other historical places that you can visit, depending on your time, but the above are the most recommended ones.
2. Stroll along and shop at Jonker Walk
Credit : Google
Jonker Walk is one of the famous scenes in Malacca. One simply cannot miss going to Jonker Walk if you are visiting Malacca. The whole street is filled with food hawkers, to vendors selling toys, jewellery, paintings, t-shirts, and many other stuffs. The vendors operate only on Fridays, Saturdays and Sundays from 7pm to 12pm on Fridays, and from 7pm-2.a.m on weekends.
Souvenirs and cheap items can be bought here. If you have nothing to buy, just embrace the lively and colourful atmosphere. Just be cautious of the crowd.
3. Take the Malacca Cruise
Credit :www.gogomelaka.com
Water transportation used to be such an important part of Malacca's history as an international business and trading port. Businessman and traders from China and India would travel to Malacca and sell or exchange their goods using the Malacca straits.
The cruise will pass along the Malacca river and as you pass along the river, you can see beautiful art work on the walls of the shops facing the river. If you are taking the cruise at night, the whole boat will be glittered with shiny and bright lights, creating a calming and romantic atmosphere.
Credit :
http://www.theculturemap.com/street-art-malacca-malaysia/
Because Malacca is situated along the Straits of Malacca, you may find that it is also famous for serving some of the most fresh seafood. Umbai is one of the known places in Malacca for it's fresh seafood. There are a few shops to choose from. The seafood are fresh and it is best enjoyed at night, with the cool breezing air from the beach.
Credit : Google
You may choose the seafood that you will like to enjoy and the price will depend on the size and weight of the seafood. You may also choose a variety of different styles of cooking for the seafood.
5. THE TAMING SARI TOWER
Credit : Google
If you are interested to view the whole of Malacca town, riding this tower would be the best way to do that. The tower is a gyro tower, the only one in Malaysia. The observation deck will revolve 360 degrees to allow you to see the town of Malacca and beyond in 7 minutes.
This tower is open during the day and at night and the entry tickets are quite reasonable.
6. TASTE NYONYA'S FOOD/CUISINE
One of the best heritage in Malacca is the Peranakan or Baba Nyonya heritage. Their food is exceptionally unique as it is a mixture of Chinese, Malay and Indonesian cuisine. From their 'asam pedas' to their unique flavoured 'laksa', anyone who visits Malacca must try some of these cuisines.
7. DRINK MALACCA'S KLEBANG COCONUT SHAKE
I totally lurvee the Klebang coconut shake, though sadly I only got to taste it once. But it was enough to last me a memory of a lifetime. If you are visiting Malacca for the first time, I highly recommend that you try this marvelous coconut shake. It is a combination of coconut juice with ice, ice-cream and milk. And although you may find there is a long queue for you to buy this coconut shake, then you may want to have it at their food stall. It will take less time as the long lines are usually for take-away. And you may want to just kick back and enjoy this drink for a moment longer.
Credit : Google
8. MALACCA'S SKY TOWER
This is the latest attraction in Malacca. This 42 storrey building is not for the faint hearted or for acrophobics, because the viewing deck is made of glass and can be a little eerie due to the heights. However, the view of Malacca city when viewed from above is priceless.
Credit : Google
Do share if you have any nice experience of visiting Malacca at the comment section below.